Finding the best solar attic fan to cool your house is a great way to lower your cooling cost. These awesome devices use the power of the sun to create free energy. This energy is then used to expel all the hot air out of your attic – making your house in general much cooler.
Down below we break it all down for you in several solar attic fan reviews, along with our top choices to keep your house cool.
Comparison Guide
.
Solar Attic Fan Reviews
1. Natural Light 36W Solar Attic Fan
The Natural Light Solar Attic Fan is one of the most powerful solar powered attic fans on the market. It's big and creates a ton of power. It's also one of the top rated solar fans on the Amazon. So for these reasons it landed in first place.
The Natural Light uses a powerful 36W solar panel to supply its motor. This panel is one of the most powerful on the market and supplies enough energy to effectively cool your home. The panel is adjustable from flat up to a 45 degree angle. You can also detach the panel and mount it remotely if you like.
The Natural Light moves up to 1638 cubic feet per minute (when directly in the sun). It is recommended to install one attic fan for every 2625 square feel in an attic. In most cases you will only need one of these fans for your attic since its so powerful.
This solar attic fan comes with all the necessary hardware you need to install it. You can also purchase optional thermostats, fire safety switches, a turrent extension, and tile roof flashing kits. With that being said installation is relatively easy and doesn't require much tools. There is also no wiring required since the solar panel is included.
Overall this is a great product to look into if you want to considerably lower the temperature of your attic. We found it to be very effective and built out of quality materials. If you have a small attic then this might not be the product for you. You might want to look into the below devices.
Pros
Super powerful and efficient.
Long 25-year warranty.
Uses quality materials and is very durable.
Technical Details:
Product Dimensions: Unknown
Weight: 30 Pounds
Power: 36 Watts

2. Broan 28W Solar Attic Fan
Second, is the Broan solar attic fan. This is another popular fan with a lot of power. This particular one is much more stealthy. Its black exterior blends in easy and isn't very intrusive.
Unlike the model above this attic fan has a 28W stationary panel. It cannot be moved or altered like other solar attic fans. With that being said it's still very effective at generating energy. Just install it on an area of the roof that gets the most sun.
The Broan solar attic fan can ventilate 537 maximum CFM, or a 3,222 cubic foot attic. This is a lot of area it can ventilate if you consider how small the solar panel is.
The fan can easily be installed to any roofs. It's also very versatile and can can replace your current powered attic fan. What makes it even better is that no wiring is required! This saves ton of time when installing the device. It should only take you 45 minutes to install it.
Overall the Broan 28W solar panel is a very practical attic fan. It has a small/sleek design, it is relatively smaller than most attic fans, and has a lot of power. We really enjoyed this attic fan a lot and recommend you find out more about it.
Pros
Sleek and slender design.
Has a lot of power.
Not very intrusive.
Cons
You can't move the solar panel.
Technical Details:
Product Dimensions: 2.6 x 2.4 x 0.8 Inches
Weight: 21.2 Pounds
Power: 28 Watts

3. Durabuild 20W Solar Attic Fan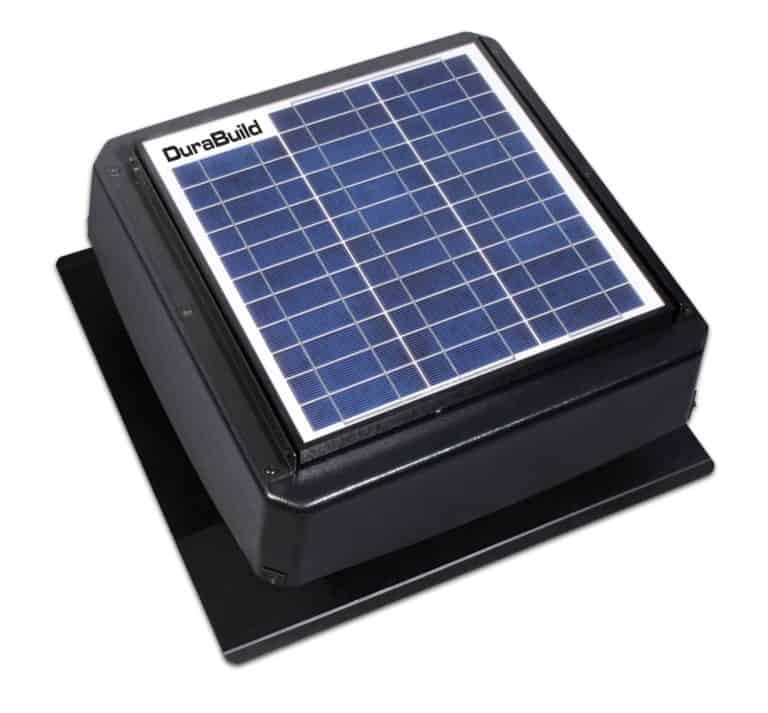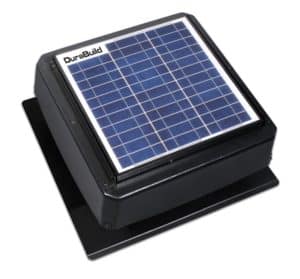 Third on the review is the Durabuild 20W solar attic fan. This is one of the most rated on Amazon and is very popular. This is simply because of its relatively small price and simple design.
The Durabuild uses a smaller 20W industrial grade solar panel. From the picture the panel looks stationary, but in reality can be tilted upward 80 degrees. This is of course a great aspect because it allows you to get the best angle for converting energy.
The Durabuild can ventilate up to 1850 square feet. Which is good for how small it is. You must keep in mind that if you do have a very large attic then you might need to install 2 of these units.
This solar attic fan uses a 24V motor that is thermostatically controlled. Meaning if the attic reaches 85℉ that the motor turns on. Once it cools to 65℉ it will shut off. This allows your attic to be a the most desirable temperature at all times.
The Durabuild solar attic fan does not require an electrician to install. Its comes with all the things you need other than a few tools. The durable grade 5 ASB shroud is also impact and UV resistant. Allowing the fan to last years without any issues. It also comes with a limited 5 year warranty on the motor  and a 20 year warranty on the solar panel.
Overall the Durabuild is a good option to choose from. It has good ratings and is suitable for most medium-sized attics. With that being said you should not purchase it if you need a large solar attic fan. Instead you should use one of the above devices.
Pros
Built with industrial grade materials.
Long warranty.
Very popular product.
Technical Details:
Product Dimensions: 23 x 9.7 x 26.2 Inches
Weight: 20.5 Pounds
Power: 20 Watts
4. Natural Light 12W Solar Attic Fan
Fourth on the review is another Natural Light product. This one is a smaller 12W unit that uses older technology. With that being said its a lot cheaper than most of the devices on this list. For this reason it landed a spot on the review.
As we mentioned above this Natural Light fan has a 12W solar panel. This is a lot less energy then all of the above devices. This thus means the fan in general isn't as powerful. Unfortunately this product uses polycrystalline solar panels. Which are an older type of panel that is less efficient.
The solar fan can be detached or mounted remotely if you like. This can be beneficial as it allows you to get the best sun exposure possible.
Natural light says this fan can ventilate 1260 square feet of space. We found this to be a little ambitious and think its more like 1000 square feet of space. The fan just isn't that powerful and can't move as much air as the above options.
Installation isn't too difficult and doesn't require more than 45 minutes. There is no wiring needed and the product has most things you need to install. For added security there is a long 25-year manufacturer warranty on the solar panel, motor, and housing.
Overall this is isn't our favorite solar attic fan. It uses older technology and isn't too powerful. It's also very large for how much power it generates. On the other hand it does have a long 25 year warranty which is a huge plus. So check it out of you need something small for your attic.
Pros
Super long 25 year warranty.
Panel can be adjusted.
Technical Details:
Product Dimensions: 27.2 x 27.2 x 11.5 Inches
Weight: 25 Pounds
Power: 12 Watts

5. ECO-WORTHY Solar Attic Fan
Last on the review is the ECO-WORTHY solar attic fan. This is by far the smallest fan on the review and has the least power. With that being said its small size makes it perfect for children play houses, dog houses, boats or RVs.
The ECO-WORTHY has a small built-in solar panel on the front of the device. Unlike some other fans you cannot move or adjust this panel. It lays flat within the fan and cannot me moved to another angle.
Since the panel is small the fan doesn't move a ton of air. Its made for small areas so don't install it for a house and think it will make a big difference. Instead it is perfect for small areas like vans, boats, and dog houses.
When you install the ECO-WORTHY to a small room it will make a big difference to temperature. We personally installed it in our kids play house. It made the house much cooler on hot summer nights.
One great thing about this device is that installation is fast and simple. It takes 25 minutes at the most to install and doesn't require very many tools. So if you're looking for a small solar attic fan then this is the one for you. Just only purchase it if you have a small room to vent
Pros
Small size makes it great for dog houses or boats.
Super easy to install.
Cons
Doesn't have a lot of power.
Only has a one year warranty.
Technical Details:
Product Dimensions: 10.8 x 10.4 x 5.7 Inches
Weight: 2.5 pounds
Power: Unknown Wattage

Solar Attic Fan Benefits
Solar attics are a relatively new product that most people don't know about. Along with this people don't understand how solar attic fans and the benefits they bring. Down below are just a few examples of the benefits of solar attic fans.
The first and most obvious benefit is that they help cool your home. Most houses either have a second floor or an attic. The problem is that during the summer these attics or second floors get really hot. The simple fact is that heat rises and trying to cool a house strictly by AC is expensive.
Installing a solar attic fan can help improve this problem in a cost-effective avenue. Attic fans suck all of rising hot air out of your house. This leaves you with a cycle of cooling air entering the house and hot air exiting. If done correctly, this can lower the temperature of your house drastically.
Not only do solar attic fans make your house cooler, but they also save you money. They do this by lowering the overall temperature of your house. This makes it so your AC doesn't have to work as hard which thus saves you money. What makes solar attic fans even better is that they run from free energy. You don't need to hook up wires to the unit. You simply install it and it runs off free energy from the sun.
Another benefit to solar attic fans is that they are good for the environment. These eco-friendly devices simply use less energy than a AC. Along with this it utilizes solar energy which is clean. There is no harmful wastes. Instead there is abundant energy that never ends.
Solar attic fans also extend the lifespan of your house and roof. By keeping your attic cool you are preventing rot, premature aging, and damaging shingle distortion that can result from excessive heat. In general solar attic fans are one of the best investments you can make for your house and something we recommend to all home owners.