The San Francisco based start-up, Solartab, has recently started an Indiegogo for their new Solartab C solar charger. This product is an evolved version of their first Solartab that utilized a solar tablet-like design. The new Solartab C boasts the same design, but has some cool new features that are both beautiful and functional.
Since this product created such a buzz we had to write an article giving you our thoughts on the device. Below we discuss each feature the device has and whether or not you should make the investment.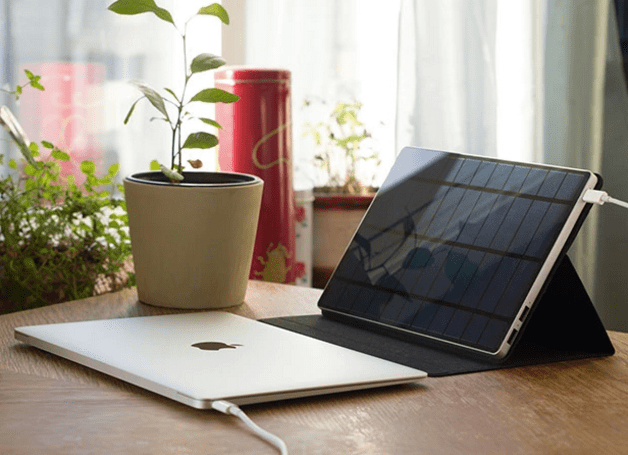 Out of all of the improvements to this device, USB-C charging capabilities has to be the most important. This is the first solar charger to include this type of feature. USB-C is future proof and is becoming one of the most popular ports available.
The new MacBook includes USB-C and can thus be charged by the Solartab C. You can also charge other USB-C devices like the Samsung Note 7, Google Nexus 5x and 6P, HTC 10, LG G5, OnePlus 2 and 3 and Google Pixel
In the soon future many more products will be made with USB-C capabilities. This makes the Solartab-C future proof and one of the most modern solar chargers you can buy.
To make this even better, the product also includes 2 built-in USB ports. Allowing you to charge multiple devices at fast speeds. The built-in Qualcomm Quick Charge 3.0 technology ensure the fastest charges with each one of your devices.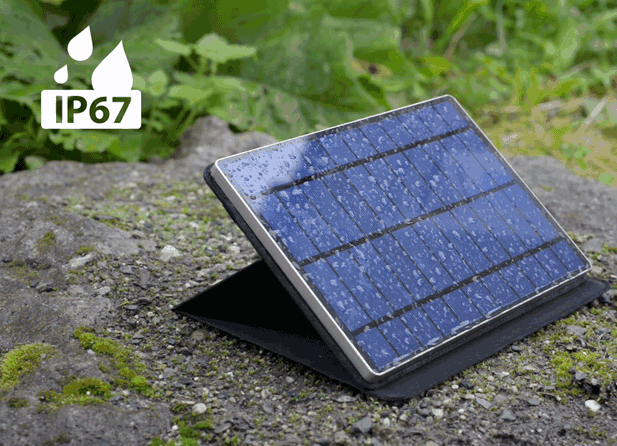 Another aspect in which this product shines is in durability. This is one of the rare solar battery chargers that has a IPA67 certification. Meaning its waterproof and is safe to be used around the pool and ocean. This feature is very important as most people use solar chargers in the outdoors. So if it rains the product will be fine.
Along with this the solar charger is built with durable and quality materials. There is a strong cover included when purchasing the Solartab C. This durable cover protects the device from drops, shocks, and everyday wear and tear. Along with this the cover acts as a stand. Allowing you position the device directly at the sun while getting the best charge possible.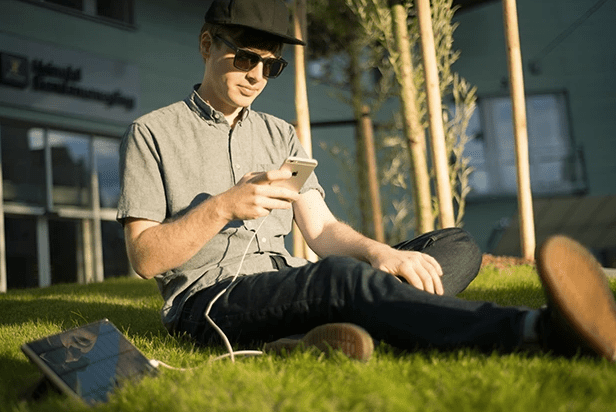 The Solartab C also has a great design that is both practical and beautiful. The exterior of the device is built with a tablet like shape. On front the charger is a powerful and beautiful 6.5W solar panel. This panel both looks great and provides for a lot of power for the internal battery. (On average it takes about 6 hours to charge the battery from solar.)
The outer shell of the device is built with quality materials that look similar to an iPad or an iPhone.
On the inside of the device is a powerful 9,000 mAh battery. This internal battery has enough power to charge most mobile phones around 5-6 times. Giving you a large power supply to rely on when away from the grid.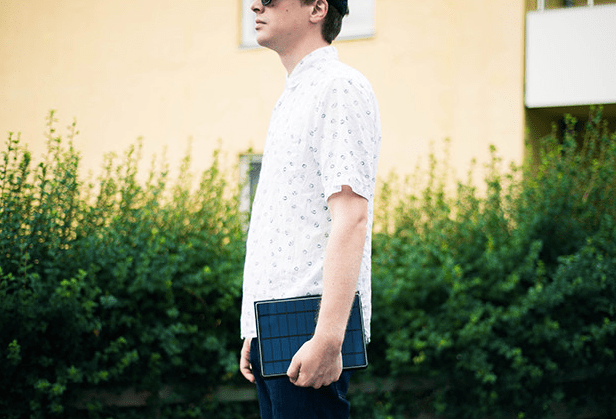 The last aspect in which the Solartab C excels in is portability. The product only weighs 280 grams and is super slim. Its lightweight and portable design makes it easy to take anywhere. It can be carried in most purses/backpacks and doesn't take up more space than an iPad.
This portable and slim design makes the Solartab C perfect for anyone who is outdoors a lot. Backpackers and hikers will love this device as it gives them a portable power bank to use when out in the wilderness.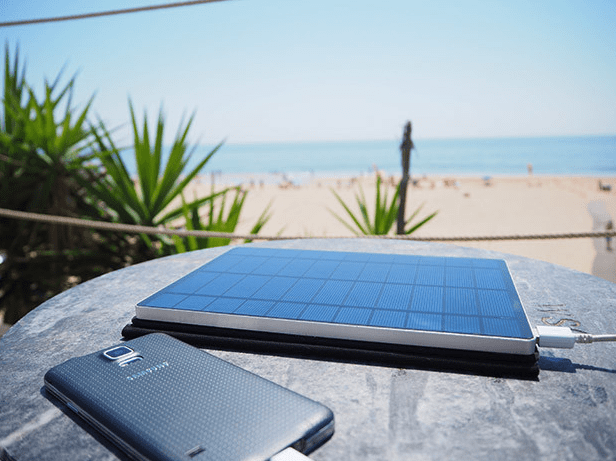 Overall to summarize the Solartab C we have to say that:
It has an amazing design and build.
It's super durable and is water-proof.
It has multiple charging ports with USB-C capabilities.
It's slim and compact.
Made with quality and durable materials.
The Solartab C is by far the most premium solar charger that you can buy and is something you should look into. The team at Solartab is currently seeking crowd funding for their project on Indiegogo. Their goal is it raise $50,000 and to start shipping these devices in December.
As of right now they are well on their way and will soon hit their goal. If you like this device and want to support the Solartab team then please visit this link to their Indiegogo page. They currently have an extended early bird option that gets you the solar charger for only $59. This is around half of its expected market price.
The older Solartab is also available on Amazon. This version of the Solartab actually has more battery capacity then the C. Its a good idea to look at both just to check which one you like better.
In the end the Solartab C is a wonderful device. We are excited to see this charger come on the market and used on a mass scale. We believe all kinds of people can benefit from this device as it gives you a portable charging avenue that can be used anywhere. No longer are you confined to a wall outlet as the Solartab C works wherever there is sun shining.